Table of contents
RoadTest: Keithley 2110-120 Digital Multimeter
Author: migration.user
Creation date:
Evaluation Type: Independent Products
Did you receive all parts the manufacturer stated would be included in the package?: True
What other parts do you consider comparable to this product?: Keithley 2015, Agilent Truevolt
What were the biggest problems encountered?: The only fault I could find was the size and quality of the display, this cheapens the instrument that would otherwise be fantastic. The dual measurements were also a bit gimmicky when trying to take measurements from two separate input sources.
Detailed Review:
A couple of months ago I joined the element14 community and decided to sign up for a Road Test which I did, for a Keithley 2110 DMM, I was not really expecting to be selected but I was which was great – so thank you element14 for the meter and the opportunity to do this review.
On first impression I did not much like the display and that made me want to not like the meter too. However, as I reviewed the meter I warmed to it, its a good meter and I like it a lot more than I wanted to. I have specifically made this a video review so I wont write too much about the review here, you can watch the video for the detail (and the puppies too).
Here is a link to the blog page I also posted this review to.
http://gerrysweeney.com/keithley-2110-dmm-review-oh-and-puppies/
In the teardowm, I tamper with the tamper-proof seal and open up the meter to see what was inside. While I am there I have a look at the build quality and the overall system architecture. Keithley have a long history of building quality test equipment and I thought it would be nice to see how the latest kit from Keithley stacks up to their past reputation. There is no less than three seperate micro controllers in this meter, actually this meter is a first class construction easily rivaling anything else in the professional range of desktop DMM's, again though its big letdown is the crappy LCD display they used.
Here is a link to the blog page I also posted this teardown to.
http://gerrysweeney.com/keithley-2110-dmm-teardown/
Here is a sketch outlining the systems key components and overall architechture.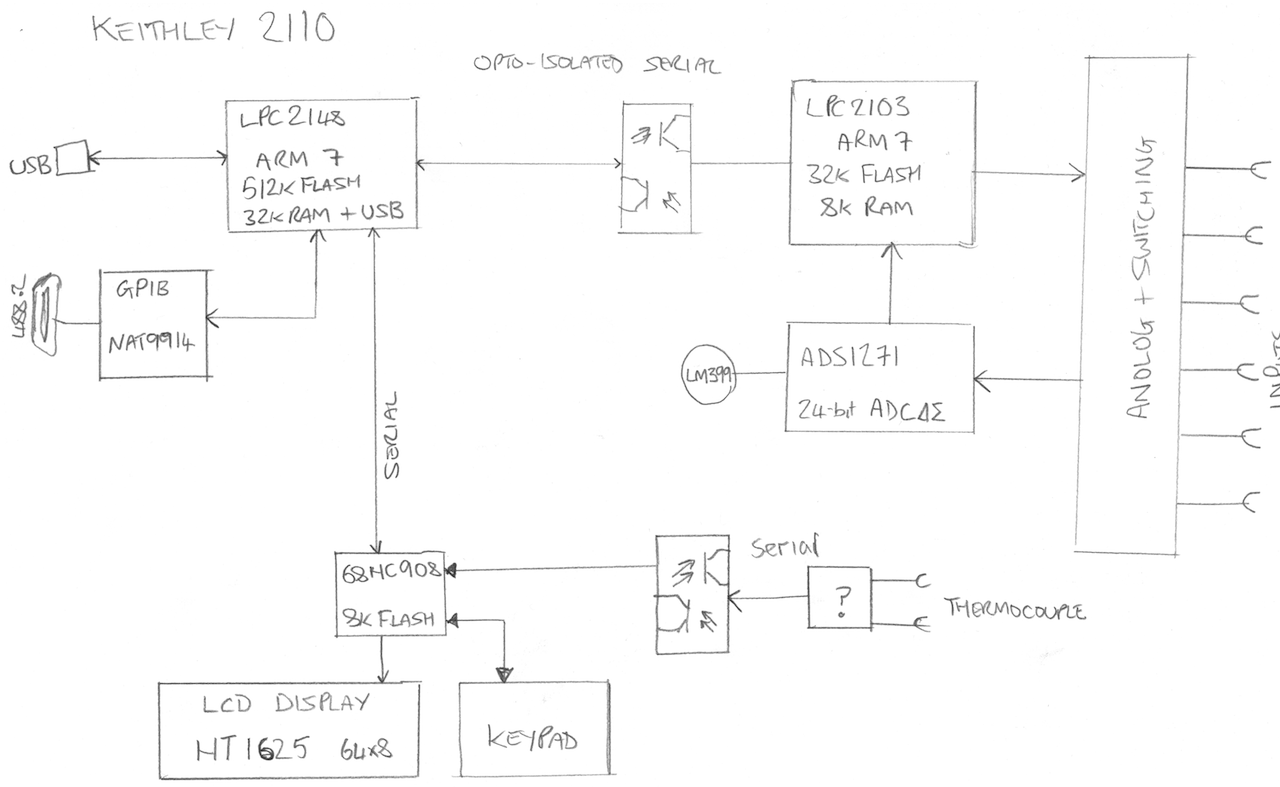 After first unboxing and looking at the display I was really dissapointed, then I powered the unit up and saw the quality of the display and that done it - I was going to hate the meter, I was expecting the rest of the unit to be as cheap and tacky as the display. However, after use and especially after the teardown I got to like this meter, its performance (apart from the software based continuity beeper which is quite useless), its build quality and apparent accuracy (so far as I can tell) is absolutely first class.
If I had a wish list – or more to the point, if I were in charge of sales at Keithley this is what I would have done differently…
- Design in a decent display, anything other than what is in there – a nice VFD, or an OLED perhaps, or even a nicer LCD if you have to
- Make the continuity beeper useful - its way too slow response-wise
- Ship a thermocouple
- Write the software so it can be used on Windows, Linux and OSX – it really is not that hard to do
- Did I say a better display?
If I needed a trustworthy reading and one of these were to hand I would have no objection using it but because of the display I would not buy one of these myself.
I hope you found the review and teardown useful. If you feel that I have missed anything or would like me to expand on anything please post a comment and let me know. I would also wholeheartedly reccomend you read Lui Gough's review on this meter, he covered the software and data collection features of the meter really nicely, I was not able to use the software because I do not have a PC.
Gerry