Microsoft Research has been showing off Digits, an attempt to build a sensor bracelet that can track the movement of fingers, replacing the need for a physical mouse or finger-covering gloves.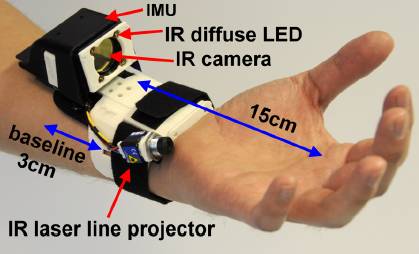 The Digits system uses a bank of infrared (IR) LEDs to reflect off the fingertips, coupled with an IR laser line projector that sees when fingers curl through it, with a PointGrey Fire-Fly MV IR camera (640x480 resolution capturing frames at 90Hz) on the wrist picking up the signals. The data from these sensors is fed into biomechanical modeling software to accurately reproduce the motions of the user's fingers.
Developed at Microsoft's British research facility in Cambridge, Digits uses off-the-shelf components and is still very much in the experimental stage, but Microsoft feels it has the potential to allow the control of everything from computers to smartphones. The company has had great success with its Kinect motion-sensing platform and would obviously like to expand on this.
For desktop users, the system could eliminate the need for a mouse by allowing the fingertip to handle fine control on the desktop, with Redmond demonstrating how pinching and moving objects can be managed using the system. Tablet users too can manage the UI using the bracelet.
But Microsoft also wants Digits to be used by smartphone users. In a video demonstration, it shows off answering a call by doing a thumbs-up gesture and adjusting the volume of music by gesturing in the air. All fine in principle, but if you thought people talking into Bluetooth headsets on the street was annoying, wait until someone takes your eye out trying to answer a call.
This early model is bulky and clunky, with the camera mounted on the inside of the wrist in a way guaranteed to irritate and/or get damaged. But looking further ahead Microsoft envisages the unit being shrunk to the size of a wristwatch and becoming an everyday computer peripheral.
El Reg suspects this may well go the way of Nintendo's Power Glove, still one of the most reviled games controllers in history. That said, Microsoft has form in the field and the gaming support to possibly take Digits mainstream, but a lot of development work is needed first.
Via The Register