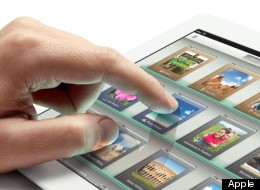 Apple probably wanted its newest iPad to be thought of as a hot item, but not like this.
Over the weekend, reports began to circulate that the newest iPad, just released on Friday, was becoming physically hot to the touch during use, specifically in the lower lefthand corner. Now, Apple has responded to these reports, issuing a statement to The Huffington Post, as well as AllThingD and The Verge. Here's what Apple had to say about its hot new iPad:
The new iPad delivers a stunning Retina display, A5X chip, support for 4G LTE plus 10 hours of battery life, all while operating well within our thermal specifications. If customers have any concerns they should contact AppleCare.
(Translation: Chill out!).
Not everyone was satisfied by this explanation, apparently, as product review publication Consumer Reports launched an investigation into the new iPad's supposed heat problems. CR, which famously could not recommend the iPhone 4 based on a faulty antenna, published its recent findings in a blog post Tuesday afternoon, stating that the new iPad does indeed get up to 13 degrees hotter than the iPad 2, according to thermal images, when playing the graphics-heavy Infinity Blade II game. This corroborated an earlier report from Dutch blog Tweakers.net, which similarly found that the new iPad was running up to 10 degrees warmer than the iPad 2 in its own tests.
Throwing cold water all of the excitement, however, Consumer Reports writer Donna Tapellini says that though the new iPad hit 116 degrees Fahrenheit, this warmth is no cause for concern:
"During our tests, I held the new iPad in my hands," Tapellini writes on the Consumer Reports blog. "When it was at its hottest, it felt very warm but not especially uncomfortable if held for a brief period."
The tangible heat on the new iPad has been attributed to its larger battery and graphics chip. The iPad's new Retina display has four times as many pixels as the screen on the iPad 2 and reportedly necessitated a bigger battery in order to maintain the high battery life that the iPad 2 enjoys; that bigger, bulkier battery has apparently been enough to warm up the back casing of the new iPad, sending many new iPad owners to the Apple Discussion Forums to complain.
Of course, there are many more new iPad owners than there ever have been before, as these initial reports of iPad hotness have not cooled down demand. Apple recently announced that it had sold over 3 million iPads in its first weekend of availability.
Source: Huffingtonpost