Hey Hackerspace members -
I'm proud to write that element14 is sponsoring the Great Global Hackerspace Challenge which is being organized by the wonderful Mitch Altman.
Mitch Altman teaching others to solder at Noisebridge, the San Fransico hackerspace he co-founded.
Finalists will be judged at Maker Faire Bay Area in May by Mitch, Ben Heck and other stars of making.
Full details of the challenge are available here:
http://www.tvbgone.com/downloads/hs_challenge/hs_challenge.htm
The deadline to enter is this Friday, March 11th!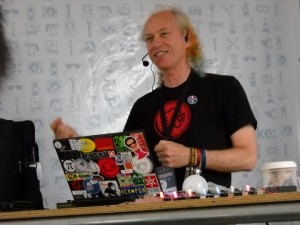 Cheers,
Drew