Wow! be careful what you wish for you just may get it :-)
I applied for and just received via UPS the Ultimate Raspberry Pi Bundle from element14!
Thanks very much!
Now comes the daunting job of not only blogging and reviewing these great products, but putting them into production for a local Food Shelf!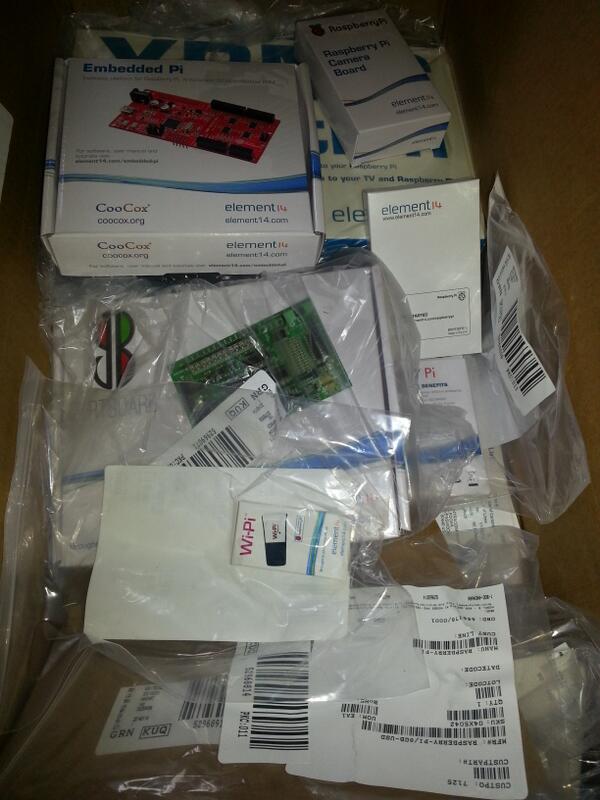 You see over Christmas vacation, I volunteered for a local food shelf called Channel One. I was chatting with the warehouse manager and I mentioned my hacker space The Rabbit Hole has quite a bit of experience with various micro-controller projects and wondered if there might be something our club could contribute to Channel One. He mentioned that their large freezer and cooler rooms are protected by commercial monitoring systems, but he'd really like a temperature monitor for their walk-in display-case cooler and freezer. The Rabbit Hole jumped on the idea right away, and began some brainstorming how best to build this type of monitor. We were leaning towards a Raspberry Pi solution as a powerful, flexible and inexpensive answer. Two weeks later, the aforementioned cooler blew a fuse over the weekend and caused a ton of milk to go to waste. Next thing you know I was checking the Road Test progress of fellow RabbitHole member Peter Shabino and noticed the element14 Ultimate Raspberry Pi Bundle Road Test applied and was selected Yeah!
I'm new to blogging, but there's more to follow, I'd appreciate comments and suggestions from the element14 community
More to Come: I'll create a series of posts as I review these products, here's the next in the series: Getting the Requirements Right - The Ultimate Raspberry Pi Bundle