That I had my kids build when they were in grade school. They bled mightily for the cause, I am obliged to report:
NVM the dead bugs. Waddya want me to do, clean stuff or learn GIMP?
The kids have long since vamoosed to the edges of the continent, although they still take my calls.
So, I am left with these niggling reminders of their object superiority and fine motor skills. I can tolerate this no further.
I have decided to make a pair of lamps of my own manufacture.
[small stellated dodecahedron]
here is a model I stole from the internet. I have a paper model, but someone stepped on it and it is under repair. When I am done I will update this section. This is an icosadodecahedron, spell-checker be damned. This is an Archimedian solid. It is the only one whose Petri polygons are planar. The only Platonic solid with planar Petri polygons is the octahedron. Some argue that this makes them the most typical examples of their respective symmetry groups.
So, I want to make three lamps: One a model of a small stellated dodecahedron, which I will hence abbreviate 'SSD.' Another an octahedron. Finally, an icosadodecahedron. The twist is that I am going with LED illumination rather than incandescent. Per-face RGB.
In the case of the icosadodecahedron, I plan to make a wooden skeleton. I will make twenty triangles and twelve pentagons of wood. They will be void in the middle. There will be a channel routed around the periphery of the void. I will cover the voids with white cloth. I can take a string and a flat, round chisel and smoosh the fabric into place as wood-framed silk screens do: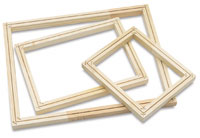 I will bevel the edges appropriately and grove the edges for a popsicle-stick feather. Then I can use vacuum-bag technique with slow-drying glue to finish the job of fabbing the skeleton.
Inside, microcontroller-controlled LEDs will shine upon the fabric. Which brings me to why I am bring this up with you ladies and gentlemen: I am welcome to ideas about what controller and I/O fabric to use with this project. I am open to suggestions about what kind of LEDs to use, how to mount them, and what syndromes to employ. Can we play a game like John Von Neumann's 'Life' here? Can we model diffusion like a butterfly's wing?
I think I want something I can code in C++ so that I can write a Forth-interpreter for high level syndrome insertion.
I will use a little different technique with the octahedron and SSD: I just got a nice little table-saw from Craigslist. Boy, it is a nearly confiscatory environment out there, what with salesmen unloading samples and all. . . I plan to saw up little strips of machineable wax to make the little isosceles triangles I will need. They with have a little ledge that will form a lacuna for a triangle of frosted glass. You can glue machineable wax. It is paraffin with polyethylene (or polypropylene) dissolved in it to saturation. This I or a proxy will sandcast with Al. Otherwise, the idea is the same.