For billions of people across the world struggling to get affordable and reliable high-speed internet access, full-fiber broadband is the stuff dreams are made of.
But first of all, what exactly is full-fiber broadband? No, it's not broadband offered by your favourite breakfast cereal manufacturer. It's a simplified term that means your broadband data signal is carried end-to-end by fast fiber optic cables, and is not slowed down by copper anywhere in the system.
What is full-fiber broadband?
Optical fiber cables are made of very thin, hair-like strands of glass that have been specially designed to carry data signals using light transmitted down the glass strands. Naturally, the speed of light is much faster than signals carried down copper cables.
Another more technical term for full-fiber is fiber-to-the-premises, or FTTP. Most homes either have a traditional copper-cable ADSL connection or fiber-to-the-cabinet (FTTC), which means that your data is carried via fiber optic cables to the local broadband cabinet at the end of your street, but is connected to your home or office via traditional copper cables. This is a legacy from pre-fiber years, and it will take a significant amount of time and investment to replace these millions of wires with faster fiber cabling.
A connection using both fiber and copper (FTTC) is limited to about 66 Mbps at most, whereas a full-fiber connection can offer much faster speeds of up to 1,000 megabits per second (Mbps).
Who's got full-fiber already?
There has been a push from governments all over the developed world to make superfast broadband (defined by download speeds of over 30 Mbps) more accessible and affordable.
The United States has set a goal of making affordable 100 Mbps or faster broadband available for at least 100 million U.S. homes. EU member states have a target of universal broadband coverage with speeds of at least 30 Mbps and 50 percent of households with speeds of at least 100 Mbps by 2020. And in the United Kingdom, the government set an ambitious target for all homes in the UK to have access to full fiber broadband by 2025.
But these targets may be challenging to meet. The United States currently has around 25 percent full-fiber coverage, Europe reported around 26 percent with FTTP at mid-2017, while the UK has only 8 percent of homes connected with FTTP.
So why are fiber connections so difficult to get to the premises? As mentioned, the legacy of copper cabling is pervasive throughout already-established ADSL networks - and the question always remains: who will cover the cost of replacing copper infrastructure with fiber? ISPs and customers may be locked in a Mexican standoff over that question, and this is why governments must step in with funding to support the move while also introducing penalties for ISPs who don't start switching over.
Another challenge is ensuring the robustness of fiber connections from the cabinet to the premises, in typically harsh conditions. The delicate optical fibers are at risk of contamination from dirt or water ingress. Although the fiber cables themselves are protected by layers of acrylic, the connectors can be vulnerable to extremely hot or cold temperatures and rain.
Standard LC fiber connectors are simply not rugged enough for harsh environments. A better solution is to use a rugged LC connector such as the 4000 series. It provides an industry-standard LC interface as specified by IEC 61754-20. To save time and simplify installation, the connectors are available as pre-terminated options, already connected to a suitable cable of up to 450m in length.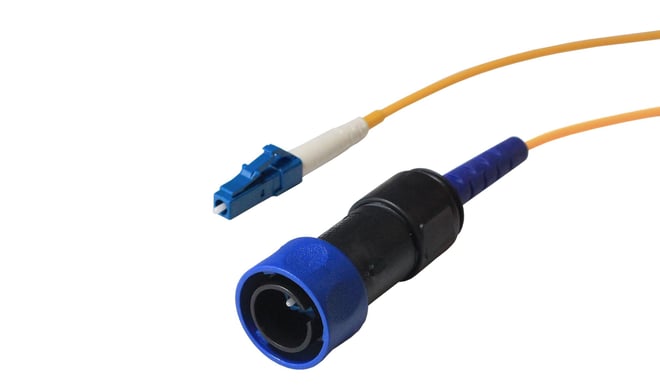 4000 Series Fiber simplex connector
Product code: PXF4050
Like the 4000 Series Fiber, the 6000 Series Fiber duplex connector is suited for outdoor broadcasting, FTTx, server room engineering, civil engineering and aviation & rail applications.
The 6000 series harsh environment optical connector is designed for years of service in areas where unprotected physical contact fiber, isn't an option. Featuring a secure, yet easy to operate 30 degree locking mechanism, this series has field proven IP68 and IP69K performance.
In comparison to the simplex 4000 Series Fiber connector, the additional glass fiber on this duplex cable can double the data transmission capabilities where required.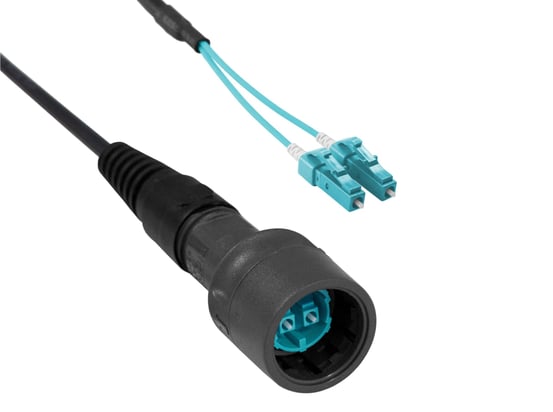 6000 Series Fiber duplex connector
Product code: PXF6050
Visit Bulgin's Connectivity Community for expert advice and for more information on optical fiber connectors please visit the Bulgin website.