Table of contents
RoadTest: TI LDC1000 Evaluation Module
Author: migration.user
Creation date:
Evaluation Type: Independent Products
Did you receive all parts the manufacturer stated would be included in the package?: True
What other parts do you consider comparable to this product?: No other parts or products were considered.
What were the biggest problems encountered?: A USB male to female connector was not provided making it much harder to experiment with, in addition, severe software installation issues were encountered on Windows 7 x64.
Detailed Review:
First Impressions
The LDC1000EVM evaluation kit is quite nicely packaged in a cardboard container with a provided test demo which allows you to quickly test lateral, angular and axial position sensing.
Also included is the LDC1000 evaluation module which TI kindly provided two of, each is packaged in nice plastic boxes perfect for storage.
One slightly disappointing aspect of the evaluation kit was the lack of a USB male to female cable which made testing rather difficult as all my USB ports are in hard to reach places, I would have greatly
preferred a USB B connector on the board.
Software
No demo software was included with the kit however it's easily downloaded from the TI website where they also provide firmware for interfacing the LDC1000 with MSP430 micro-controllers.
Installing the demo software however was another matter entirely with it constantly freezing on Windows 7 x64, maybe it was just my system but eventually I was forced to install it in a
virtual machine running Windows XP Pro where it finally worked.
The demo software itself is very well made allowing you to get an excellent view of the performance of the LDC1000 as well as direct access to various registers.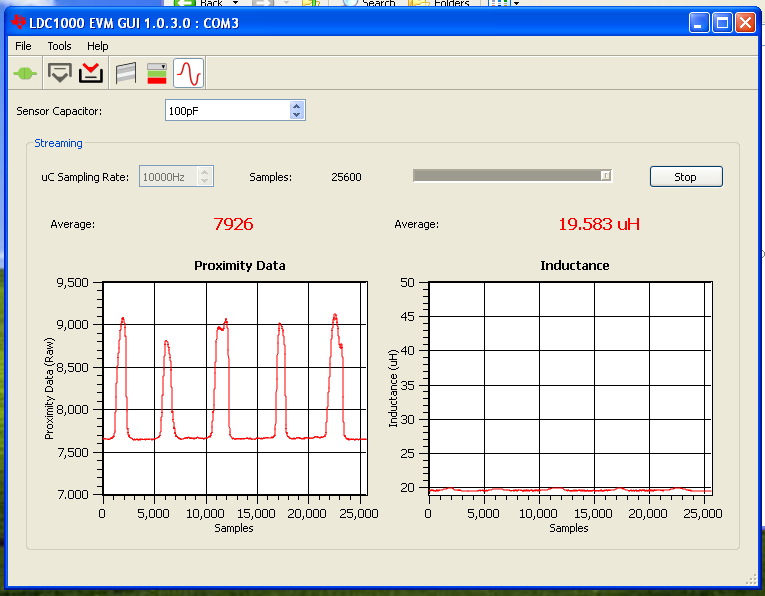 Here in this image you can see the proximity data changing as I move my finger towards and away from the sense coil, a much greater result is observed with metallic objects.
Testing
The performance of the LDC1000 is very impressive offering very high sensitivity which allows it to detect the smallest of movements, it's also immune to external magnetic fields
unlike more conventional methods of position sensing. (hall-effect)
The sense chip itself is easily implemented on a custom PCB and can interface readily with practically any micro-controller making it a powerful and versatile solution.
Overall I am very pleased with the LDC1000 and would certainly consider it any project that required precise sensing, while I don't think it can compete with hall-effect in terms
of price if you need the high resolution and insensitivity to external magnetic fields this is the perfect chip to use.