While cruising the crowdfunded carriageways of IndieGogo, a new Raspberry Pi project jumped out of the screen at us here at element14. We know these guys, and the sudden appearance of the pi-topCEED promises an interesting new option for all us RPi lovers out there.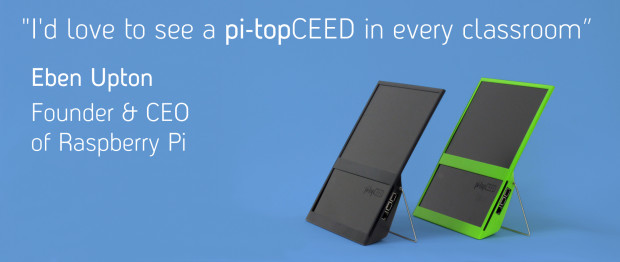 Under-a-Ton Desktop
The pi-topCEED looks like a follow on from the 3D printed Pi-Top, which provided a familiar laptop-styled front for your Raspberry Pi. This time the team's aiming for the desktop, to deliver a sub-$100 PC.
It consists of a 13.3-inch screen with its own kickstand and a slimline compartment to house the brains of the operation, a Raspberry Pi 2. It keeps the USB ports accessible so you can hook up any keyboard and mouse, which also hides away the bare bones of the electronics for those newcomers who are shy of naked PCBs.
As is often the case with this kind of Pi-powered project, it's got STEM and education firmly in its sights, and that avaricious audience is reflected in the crowdfunding campaign's sprint start. We picked up on this one when the campaign was but and hour old, and it was already 7% of the way toward its 30-day, $50,000 goal. So there's good reason for the creator to be very optimistic.
For $99, you'll receive a pi-topCEED that includes a Raspberry Pi 2, or you can go for the $70 option if you're already rich in Raspberry goodness and just want the screen and housing. Other tiers include the donation of a pi-topCEED to the IntoUniversity initiative (nice) for $149, three units for $297 or five for $495.
If you're quick, and get your pledge in during the first day, the creator will also throw in a laser-etched front piece, or if you're inside the campaign's launch week you'll get a breadboard with a handful of components to play with, too.
Head on over to the IndieGogo campaign for more details, and as always, we want to hear your thoughts on the pi-topCEED right here in the comments section.